Data di pubblicazione: 22 Giugno 2021
L'ITSM, acronimo di IT Service Management, sta diventando una condizione sempre più necessaria per rendere moderne e sostenibili le infrastrutture IT delle aziende impegnate nella trasformazione digitale. Si tratta di un modello di gestione i cui vantaggi sono semplici da comprendere, ma piuttosto complessi da mettere in pratica, data la straordinaria varietà che li caratterizza.
L'obiettivo dell'ITSM – IT Service Management è molto ambizioso in quanto è finalizzato a gestire tutte le risorse IT in funzione di tutti i servizi utilizzati da tutti gli utenti di un'azienda. Vediamo quali sono i concetti fondamentali del ITSM e quali sono i potenziali vantaggi che possono derivare da una corretta implementazione e gestione dei servizi IT offerti da un MSP (Managed Service Provider).
ITSM (IT Service Managament) cos'è e cosa offrono I MSP (Managed Service Provider)
ITSM è l'acronimo diffuso di IT Service Management, una serie di procedure finalizzate a implementare e gestire i servizi IT, ove si intendono le risorse hardware, software, di elaborazione, di archiviazione, di rete e più in generale qualsiasi servizio fornito da un'azienda ai propri utenti: dal semplice notebook o smartphone aziendale, agli accessi personalizzati alle applicazioni, ai servizi di stampa gestita, allo storage in cloud, ai container per lo sviluppo, ecc.
Il ITSM costituisce il cuore dell'offerta dei MSP (Managed Service Provider), i fornitori dei servizi gestiti che, secondo la definizione offerta da Gartner, garantiscono ai propri clienti servizi come rete, applicazioni, infrastruttura e sicurezza, tramite un supporto continuo e regolare.
Un MSP può contare su un portfolio di servizi garantito da un unico fornitore, piuttosto che fare da collettore di un'offerta eterogenea, per garantire un parco di soluzioni più ampio. Oltre a fornire il servizio, il MSP ha l'onere contrattuale di prevenire e risolvere qualsiasi problema possa insorgere in capo alle aziende clienti.
Anche senza entrare nel merito dei singoli processi che caratterizzano un modello ITSM, è facile intuire come iI trend evolutivo dell'IT aziendale sia orientato verso i servizi gestiti per sollevare l'infrastruttura proprietaria da una serie di incombenze sempre più ampia e complessa da implementare e, soprattutto, gestire con risorse interne. Si tratta di una transizione non facile, da affrontare con una strategia accorta, grazie al supporto di consulenti esperti, in grado di analizzare le esigenze aziendali e tradurle nella relativa richiesta di servizi IT. L'obiettivo è garantire una crescente efficienza operativa senza condizionare la continuità di business che i servizi IT devono garantire.
I vantaggi dell'IT Service Management
Delineare uno schema di vantaggi sulla base dell'implementazione dei servizi gestiti equivale a riconoscere il valore aggiunto in termini di mezzi per raggiungere determinati obiettivi, senza cadere nella trappola del puro apporto tecnologico, fine a se stesso. Il valore aggiunto offerto dai servizi gestiti si verifica quando il contributo offerto dalla tecnologia diventa tangibile e funzionale al raggiungimento degli obiettivi di business. In questi termini, diventa possibile valutare gli effetti grazie ai tradizionali parametri di efficienza aziendali, come il ROI (Return On Investment) piuttosto che la misurazione delle performance dei singoli processi e reparti operativi.
In senso più ampio, il progressivo passaggio al ITSM corrisponde generalmente a minori costi di gestione, dal momento che gli oneri di infrastruttura, così come il controllo dell'efficienza rimane in capo al MSP, mentre l'azienda cliente paga soltanto per i servizi nella misura di cui necessita.
La delocalizzazione dei servizi consente inoltre di avvalersi di modelli scalabili, funzionali alla crescita o alla contrazione delle risorse IT necessarie, che vengono erogate direttamente dal MSP, senza vincoli di investimento da parte dell'utilizzatore finale. Si tratta di un vantaggio tutt'altro che marginale, considerato che gli asset IT sono spesso soggetti ad una rapida obsolescenza, necessitando di continui upgrade sia a livello hardware che a livello software. Grazie al ITSM, l'azienda ha garanzia di poter sempre contare sulla miglior tecnologia disponibile in un determinato momento.
Un vantaggio fondamentale è inoltre costituito da una generale accelerazione alla trasformazione digitale, laddove il modello a servizi offre una visione agile dell'IT aziendale, sollevando il tradizionale reparto IT da una serie di funzioni amministrative. Ciò riduce il livello di specializzazione richiesto alle singole figure, offrendo la facoltà di ricollocare le risorse esistenti per svolgere funzioni orientate all'innovazione dei processi. Dal punto di vista pratico, la garanzia di resilienza, che passa in capo al MSP, consente all'azienda cliente di concentrarsi, senza preoccupazioni di sorta, sulle attività cruciali per il proprio business.
Orientarsi tra le best practice ITSM: il ruolo del framework ITIL nel passaggio al modello a servizi gestiti
L'oggettiva complessità nell'implementare un modello a servizi trova spunti pratici e risolutivi in una serie di framework, secondo i quali i MSP definiscono la propria offerta di servizi IT per le aziende. Ne esistono molti, tra i nomi più ricorrenti incontriamo COBIT, MOF, eTOM, ISO/IEC 20000 mentre il più popolare è con ogni probabilità il framework ITIL (Information Technology Infrastructure Library), che si basa su cinque fasi, che definiscono con una logica end to end il passaggio ad un modello a servizi nell'ottica di una strategia basata sul miglioramento continuo.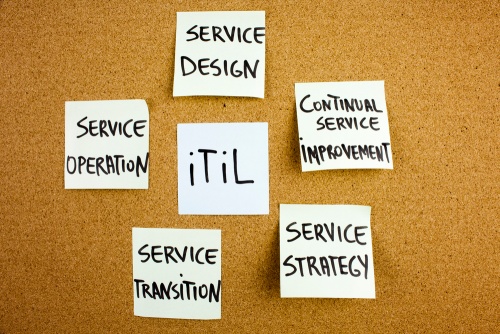 I cinque volumi fondamentali dell'ultima versione del framework ITIL (versione 4) sono:
Service Strategy: costituisce il momento iniziale ed al tempo stesso cruciale nel definire l'intero ciclo di vita dei processi basati sui servizi gestiti, attraverso la progettazione, lo sviluppo, l'implementazione e la gestione dei servizi selezionati. La strategia consente di definire anche gli aspetti di costo, ed i conseguenti budget IT che l'azienda deve prevedere nei propri esercizi.
Service Design: definisce gli aspetti relativi alla progettazione, in funzione ai requisiti generali degli SLA (service level agreement) che gli MSP stipulano con i propri clienti. Tra questi rientrano le condizioni relative alla disponibilità, alla sicurezza e alla resilienza (backup e disaster recovery).
Service Transition: descrive le best practice relative alla fase di transizione dal IT tradizionale ai servizi gestiti, in modo da ottimizzare una fase per natura critica, con il minor impatto possibile sulla qualità e sulla continuità dei servizi.
Service Operation: definisce gli aspetti relativi alla gestione dei servizi implementati, dal controllo degli accessi alle procedure nel caso di incidenti e problematiche di varia natura.
Continual Service Improvement: si tratta probabilmente del volume più importante del quadro ITIL v4, in quanto è orientato a migliorare progressivamente l'efficienza dei servizi gestiti in funzione degli obiettivi IT aziendali, offrendo soprattutto una visione dinamica, capace di adattarsi alle continue variazioni dettate dalle mutevoli esigenze di business.
Va inoltre sottolineato come i framework non siano da considerarsi esclusivi, ma possono essere adoperati in via complementare, per cui non è raro vedere l'ITIL associato con un altre best practice.
A prescindere dai framework di riferimento, le procedure ITSM sono molto numerose. A titolo esemplificativo, i volumi del framework ITIL 4 ne contano in totale ben 34 e variano dalla gestione (asset, configurazioni, incidenti, problemi, modifiche, richieste di servizio, livelli di servizio, competenze, ecc.) al catalogo dei servizi stessi, oltre agli aspetti relativi al IT service desk, determinante per interfacciare l'utente con tutti i report e le richieste relative agli andamenti e la risoluzione pratica degli eventuali problemi che dovessero verificarsi.
Per i reparti IT aziendali, il IT Service Management rappresenta un modello capace di adattarsi agilmente alla variazione delle strategie di business aziendali, a patto di implementare una cultura e un mindset mirato a recepire gli effettivi vantaggi, che vanno ben oltre la pretesa di svolgere con una logica a servizi ciò che veniva effettuato sulle infrastrutture IT interne. È dunque necessario un percorso di consulenza e formazione con cui gli MSP possano avvicinare progressivamente gli IT aziendali al corretto sfruttamento delle risorse offerte dai servizi gestiti.
Servizi gestiti, intelligenza artificiale e tecnologie emergenti
Tra i servizi gestiti che le aziende stanno implementando, meritano particolare attenzione i processi basati sull'intelligenza artificiale. Si è definito un contesto specifico, denominato AIOps (AI of IT Operations) riferito in termini generalisti all'applicazione dei sistemi di machine learning a supporto delle operazioni e dei servizi gestiti. In altri termini, l'impiego di tecniche AI per analizzare i dati provenienti dal monitoraggio del ITSM consente di adottare un atteggiamento proattivo nella gestione, a cominciare dalla previsione delle possibili interruzioni di servizi.
I servizi gestiti assumono dunque una valenza universale per l'evoluzione di un'azienda, ed è lecito attendersi il supporto alla crescente diffusione di nuovi paradigmi tecnologici come la Internet of Things, soprattutto per quanto concerne la gestione e l'analisi dei dati con cui gli smart device interagiscono tramite la sensoristica ambientale. I ITSM si collocheranno in un contesto cross tecnologico che vedrà l'intelligenza artificiale sempre più protagonista nel processare una quantità di informazioni enorme, proveniente dalle applicazioni di una incredibile varietà di dispositivi interconnessi.